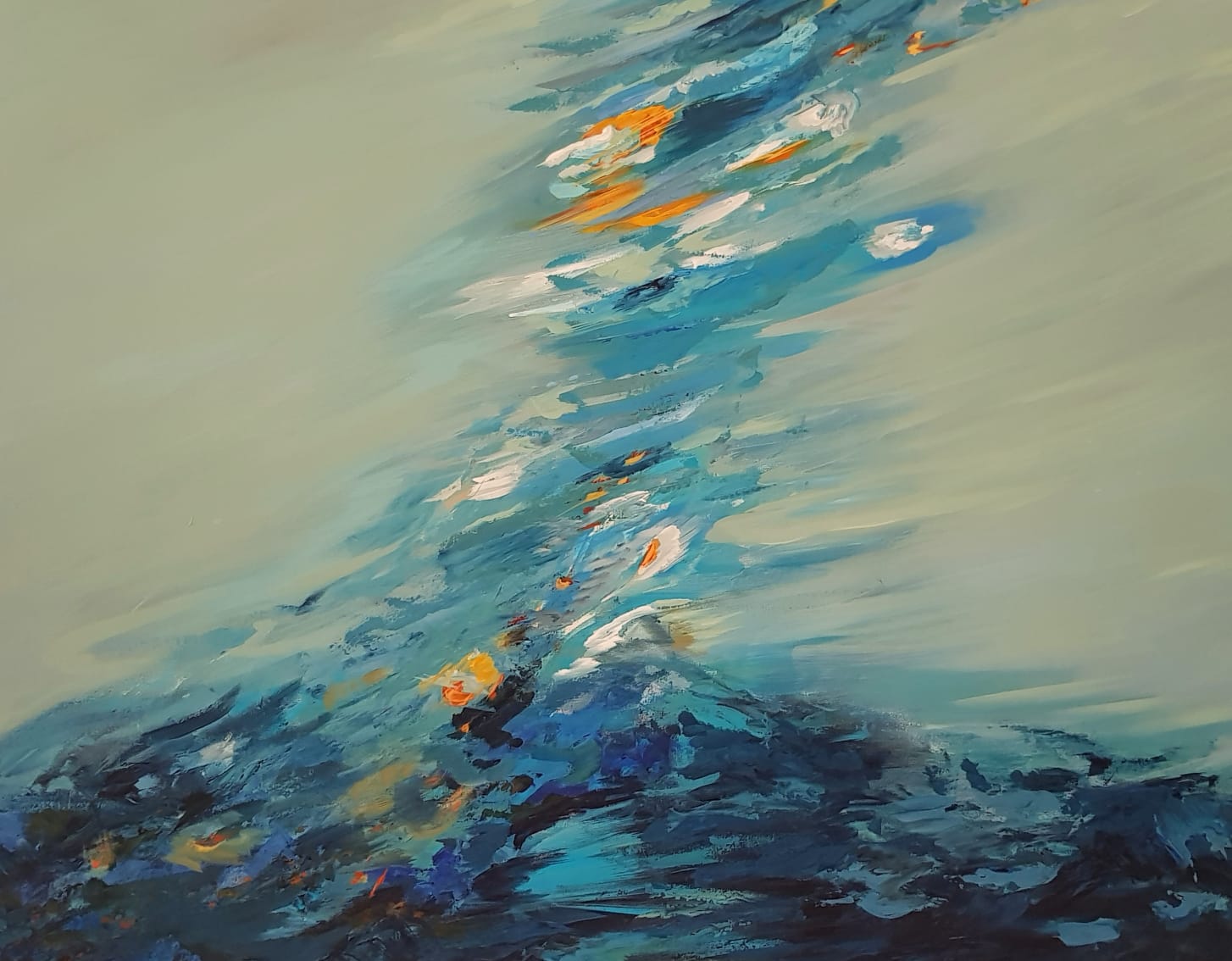 Turkish Cypriot artist Birgül Beyazgedik's solo exhibition titled "Spatial Reflections" and hosted by the Cyprus Museum of Modern Arts will be opened by Turkey Ambassador to Nicosia His Excellency Ali Murat Başçeri at the exhibition hall of Faculty of Dentistry at 10:00 on August 3 2020.
Birgül Beyazyük Gedik; "I believe in the necessity of change"
According to the information given by the Press and Public Relations Directorate of Near East University, the paintings of the artist mostly constitute a space phenomenon. Artist Gedik, who has worked on the theme of underwater and divers for a long time, stated that she believes in the necessity of change and said, "I use different materials and techniques in order not to repeat myself. When you produce constantly, change is inevitable. When I look back at my old works, I see a lot of difference… Every painting you make sheds light on your next painting and creates its background. You start to hear the pain of your new work even before you begin. There are hidden figures in the works where the audience can catch concrete clues. I like to use the abstract elements of the painting in my compositions. Sometimes the feeling of infinite space turns into an uncertain space, and sometimes it can turn into a two-dimensional planar structure. In these spaces, there are hidden figures in which color and paint texture come to the fore and the audience can catch concrete clues from time to time. In the works I did for my last exhibition, besides all these, reflections accompany the space."
Who is Birgül Beyazyük Gedik?
She completed her primary and high school education in Kyrenia. In 1993, she graduated from Gazi University Faculty of Education, Department of Painting. Between 1993-1994, she made original printing works with Hasan Pekmezci at the master program of Hacettepe University Fine Arts Faculty Painting Department. She completed two master's degrees in education and arts. She is currently continuing her doctorate education at the Near East University Faculty of Fine Arts and Design. She held her first solo exhibition in the field of original prints in 1995 and received the title of the first Woman Artist to Open an Original Print Exhibition in the TRNC. She worked as a lecturer at the "International American University of Cyprus" for a short time. She is still teaching at Atatürk Vocational High School Graphic Design Department. She was a board member of the TRNC Plastic Arts Association between 1998-2001, and a board member of GÖRSED (Visual Arts Education Association-Ankara) between 2006-2007. She has had four solo exhibitions in Turkey and Cyprus. She took part in many group exhibitions and workshops. Her works take place in many institutions, museums and private collections, especially in the collection of Presidency.