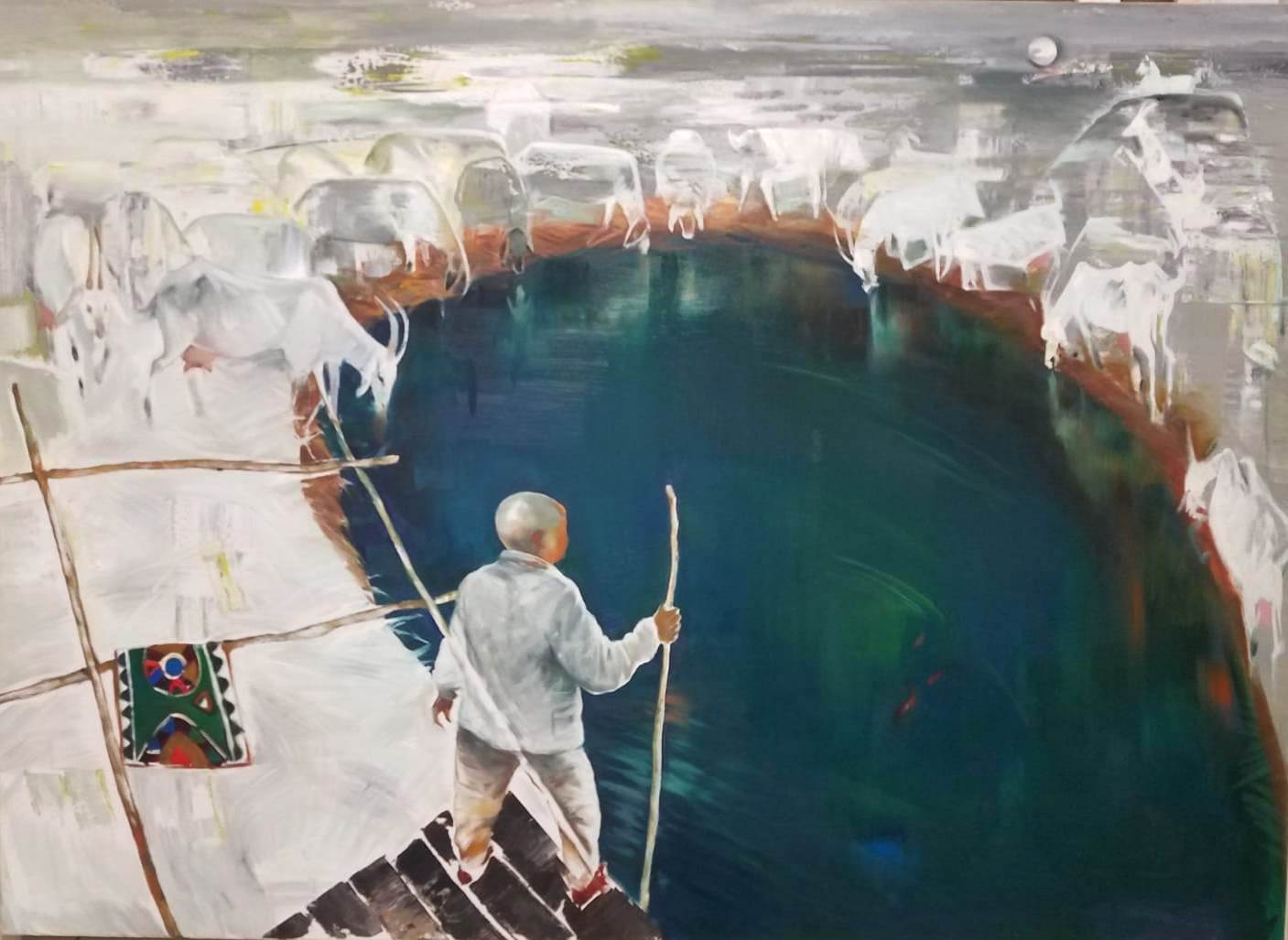 The solo exhibition titled "Melody" and consisting of 20 artworks of Kyrgyz artist Ruslan Ibraimov, the solo exhibition titled "Eternal Images" and consisting of 19 paintings of Kyrgyz artist Azamat Abakirov, the group exhibition consisting of 28 artworks of a group Kazakhstan painting artists Natalya Ligay, Alisher Zhurgenov, Yersa the Japakov and Nurtay Zhardemov, and the group exhibition consisting of 30 artworks of Turkey printmaking artists Yurduşen Konanç, Funda Altın, Hatice Çöklü, Fatma Duygu Şenocak and Utku Öksüz, all exclusively made for the Cyprus Museum of Modern Arts, will be opened by Hasan Taçoy, Minister of Economy and Energy.
According to the press information given by the Directorate of Press and Public Relations of Near East University, the solo and group exhibitions consisting of 97 artworks in total will be opened at the exhibition hall of the Near East University Hospital on Monday, January 27, 2020, at 08.30.
Who is Kyrgyzstan artist Ruslan Ibraimov?
He was born on 29 June 1964 in the city of Frunze (Bishkek). He graduated from the Chuikov Kyrgyz State Art College. He is a member of the Kyrgyz Republic Artists Union. He participates in national and international exhibitions. He participated in the Kyrgyz artists art exhibition held in Istanbul in 2000, and he held his solo solo art exhibition in Çorlu, Turkey, in 2002. In 2009, he participated in Kyrgyz artists art exhibition held in Bishkek. He participated in the exhibition of the «Aksan» art group held at the Gapar Aitiev Kyrgyz National Fine Arts Museum. In 2009, he opened his solo exhibition at the NASSANAT Gallery in Astana. In 2016, he opened 2 more solo exhibitions in Kazakhstan. His artworks take place in many private collections in the USA, Germany, Turkey, Kazakhstan and China.
Who is Azamat Abakırov?
He is an artist from Kyrgyzstan. He was born on November 15, 1982, in Kyrgyzstan. He graduated from Chuykov Kyrgyz State Art College in 2004. He has been a member of the Association of Artists of the Kyrgyz Republic since 2007. In 2009, graduated from the T. Sadykov National Art Academy of the Kyrgyz Republic. As of the same year, he became a member of the Union of Artists of the Kyrgyz Republic. He graduated from the Industrial Design Department of Lanzhou Transport University in 2016. He is employed as a teacher at the Department of Design of Cusup Balasagun Kyrgyz National University.
Kazakhstan artists group exhibition
Alisher Zhurgenov depicts the culture and traditions of the Kazakh people in his paintings.
The painting of Natalia Ligay has an extraordinary sensuality. Her pictures emit light that penetrates the surrounding area. On the canvases, images carrying part of the artist's soul come to life. The artist creates the air of lightness and freedom by using various writing techniques, watercolors and oil paintings.
Nurtay Zhardemov usually paints according to music. During his graduate lecture at an international exhibition in Uralsk in 2006, he worked on the painting "Desire Theater" with the music of Ennio Moriccone. He created more than 30 paintings on the works of the famous composer of Kazakhstan Shamshi Kaldayakov. According to the artist, with the right mood, music strengthens relational feelings, the feeling of extraordinary lightness of the hand appears.
Yersain Zhapak's approach to painting style Dadaism: sees the world through the eyes of a child with a pure perception. Yersain Zhapak is versatile in art, has the art of speech, graduated from Kazakhstan State University Journalism Faculty. He wrote many articles about Kazakhstan artists.
Turkey printmaking artists
Artist residence program coordinator Assoc. Prof. Dr. Erdoğan Ergün cordinated the workshop of Turkey printmaking artists Yurduşen Konanç, Funda Altın, Hatice Çöklü, Fatma Duygu Şenocak and Utku Öksüz, and the exhibition curated by Assist. Prof. Dr. Yücel Yazgın.
Assoc. Prof. Dr. Erdoğan Ergün stated that the Turkey printmaking artists produced their artworks during a 10-day workshop carried out at the workshops of the Faculty of Fine Arts and Design for the Cyprus Museum of Modern Arts. He stated that the main purpose of the program was to host the original works of participating artists in the field of contemporary art, especially by hosting the print and painting artists in the Turkish world, to be included in the Cyprus Museum of Modern Art project, which will be completed in 2020. Expressing that the Artist Residence has hosted more than 100 printmaking artists until today, Assoc. Prof. Dr. Erdoğan Ergün said, "In addition to providing artists with research and production opportunities, we also organize trips, seminars, and workshop talks. In addition, short interviews of artists' point of view, working methods and their views about art in general are documented with video footage in the workshop environment in order to create a visual memory.
Utku Öksüz; I have experienced a spooky color, a voice today, and perceive the pain of war. While shadows remind of pain, darkness, death, I also evoke the pointlessness and barbarism of killing. Whenever the world escapes from chaos, then I will draw a flower picture. I even reflect the fact that life is against love in the tragic dimension of my works. In my thoughts, I am of the opinion that it would be interesting to examine how the war dragged societies into disasters in my works as I reflected the struggle to survive of those who lost their freedom. I have dealt with the rest of the post-war studies by studying.
Fatma Duygu Şenocak; The metaphor of door represents those the person has given up and those he searches up.
Entering a new path in life means opening a new door. Worn doors represent maturity due to the results of the decisions we have made throughout our lives, while the closure of all doors in the works represents the importance given to human privacy.
Funda Altın: As I glide through dreams, I long for the reality of dreams. I try to understand why some days are a bad dream, why some dreams are like a good day, and is time our friend or our enemy? When am I awake, when am I passing myself? When will the thoughts that are spinning in my head sit in place, is the peace at our door, or is it planning to come to visit us from distant lands? And now I believe ... The sun showed its face now, and I gratefully opened my arms to a life that would never sink.
Hatice Çöklü; As an artist, while focusing on issues such as identity, tradition, problems of immigrant workers, privacy and innocence, I reflect my works, which I have created with different disciplines such as photography, sculpture, video, editing, and printing techniques, through ironic, parody and sometimes face-to-face method.